10 second Video Loading time.
Better To switch Video server with vpn, if does not play. opera vpn recommend.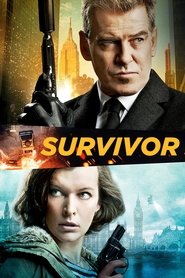 Survivor
A Foreign Service Officer in London tries to prevent a terrorist attack set to hit New York, but is forced to go on the run when she is framed for crimes she did not commit.
Views: 405
Genre: Action, Crime, Thriller
Director: James McTeigue, Richard Goodwin, Shaun O'Dell
Actors: Angela Bassett, Dylan McDermott, Frances de la Tour, Genevieve O'Reilly, James D'Arcy, Milla Jovovich, Pierce Brosnan, Robert Forster, Roger Rees, Sonya Cassidy
Duration: 96
Quality: HD
Release: 2015