10 second Video Loading time.
Better To switch Video server with vpn, if does not play. opera vpn recommend.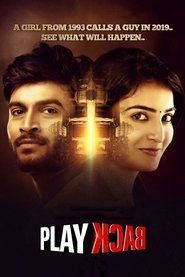 Play Back (Telugu)
Karthik is an investigative crime reporter from 2019, while Sujatha is from 1993 . An accidental cross time phone talk connects them. When Karthik knows about her difficulties, he tries to change her future by changing the incidents from her past.
Views: 187
Genre: Science Fiction, Telugu, Thriller
Director: Jakka Hari Prasad
Actors: Ananya Nagalla, Arjun Kalyan, Ashok Vardhan, Chakrapani Ananda, Dinesh Tej, Gautam Raju, Spandana Palli, Surya Bhagawan Das, Thagubothu Ramesh, Thummala Narasimha Reddy (TNR)
Country: India
Duration: 121
Quality: HD
Release: 2021