10 second Video Loading time.
Better To switch Video server with vpn, if does not play. opera vpn recommend.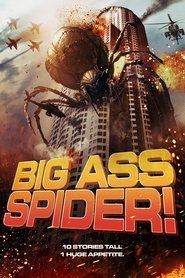 Big Ass Spider! (Tam+Hin+Eng)
When a giant alien spider escapes from a military lab and rampages across the city of Los Angeles, it is up to one clever exterminator and his security guard sidekick to kill the creature before the entire city is destroyed.
Views: 212
Genre: Dubbed Movies, Science Fiction
Director: Erin Grumley, Joshua Lou Friedman, Mike Mendez, Sara Branscum
Actors: Alexis Kendra, Bob Bledsoe, Clare Kramer, Greg Grunberg, Lin Shaye, Lloyd Kaufman, Lombardo Boyar, Patrick Bauchau, Ray Wise, Ruben Pla
Country: USA
Duration: 80
Quality: BluRay
Release: 2013